House of Salt and Sorrows (Library Binding)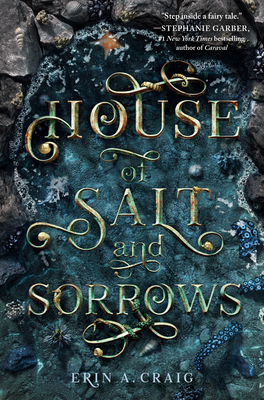 $24.19
Not in Store- Usually Ships in 1-5 Days
Staff Reviews
---
This story was so dark. It actually started off with a funeral. Annaleigh is one of 12 sisters who lives in a castle by the sea. Her father is the King of their lands. The sisters have been plagued by deaths, starting with thier mother during the birth of the youngest sister. Annaleigh started off as one of the middle sisters and now she is second in line for the throne, if she can stay alive long enough to outsmart the curse.
Annaleigh becomes convinced that her latest sister's death was no accident. She enlists the help of an old friend, her sisters, and a new crush to help her solve the mystery.
There was so much I loved about this story. The setting was so much wonder and beautifully described. I grew to love all the sisters, even though I had to write them all out to keep track at first. There was a dreamlike quality to the writing, or maybe it is just because I stayed up into the wee hours reading this. There were so pretty scary scenes and some of the things described have stayed with me long after I finished reading this.
This was an excellent read. I finsihed it in 6 hours, which almost never happens in one day. There just wasn't a safe stopping point for Annaleigh.
This was the Not So YA Bookclub Pick for November 2019.
— Karen
Fall 2019 Kids Indie Next List
---
"Annaleigh is one of twelve sisters. Or she was. Mysterious and tragic circumstances are plaguing the Thaumus family, claiming the lives of the girls one at a time. Will Annaleigh be able to put a stop to it before she loses another beloved sister? Or will the curse come for her next? Equal parts gothic ghost story, tale of sea gods and legends, and The Twelve Dancing Princesses, Craig's thrilling debut will sweep you into its pages and keep its claws latched on until the last page is turned."
— Hana Boxberger, Village Books, Bellingham, WA
Description
---
"Step inside a fairy tale."--Stephanie Garber, #1 New York Times bestselling author of Caraval

Get swept away by the New York Times bestseller that Melissa Albert, author of The Hazel Wood, calls "eerie" and "lovely." As one by one her beautiful sisters mysteriously die on their isolated island estate, Annaleigh must unravel the curse that haunts her family. Be careful who you dance with...

In a manor by the sea, twelve sisters are cursed.

Annaleigh lives a sheltered life at Highmoor with her sisters and their father and stepmother. Once there were twelve, but loneliness fills the grand halls now that four of the girls' lives have been cut short. Each death was more tragic than the last--the plague, a plummeting fall, a drowning, a slippery plunge--and there are whispers throughout the surrounding villages that the family is cursed by the gods.

Disturbed by a series of ghostly visions, Annaleigh becomes increasingly suspicious that her sister's deaths were no accidents. The girls have been sneaking out every night to attend glittering balls, dancing until dawn in silk gowns and shimmering slippers, and Annaleigh isn't sure whether to try to stop them or to join their forbidden trysts. Because who--or what--are they really dancing with?

When Annaleigh's involvement with a mysterious stranger who has secrets of his own intensifies, it's a race to unravel the darkness that has fallen over her family--before it claims her next. House of Salt and Sorrows is a spellbinding novel filled with magic and the rustle of gossamer skirts down long, dark hallways. Get ready to be swept away.

"An eerie, lovely Twelve Dancing Princesses retelling full of ghosts and gods and a fascinating waterfront world and I'm reading it from behind my fingers."--Melissa Albert, New York Times bestselling author of The Hazel Wood
About the Author
---
Erin A. Craig has always loved telling stories. After getting her BFA in Theatre Design and Production from the University of Michigan, she stage managed tragic operas filled with hunchbacks, séances, and murderous clowns, then decided she wanted to write books that were just as spooky. An avid reader, decent quilter, rabid basketball fan, and collector of typewriters, Erin makes her home in Memphis with her husband and daughter.

erinacraig.com
@Penchant4Words on Twitter and Instagram
Praise For…
---
"Haunting, atmospheric, and immersive."--Bustle

"Nothing short of both haunting and mesmerizing . . . a perfect step into escapism and away from real life."--Hypable

"It's a fairy tale, a young-adult romance (though gothic enough for adult readers) and a whodunit too."--The Wall Street Journal

"Chilling and atmospheric."--Laura E. Weymouth, author of The Light Between Worlds
Evocative details and lyrical, moody prose  . . . a richly conceived story that blends mythic and Gothic storytelling."--PW
"The novel's vivid, evocative atmosphere will please fans of the gothic . . . chills aplenty."--The Bulletin
"Equal parts gothic fairy tale and romance . . . compulsively readable."—SLJ
"This moody maritime retelling of The Twelve Dancing Princesses blends elements of suspense and horror for a gothic twist on a familiar tale. A memorably built world populated with a hauntingly doomed family."--Booklist