The Last House Guest (Hardcover)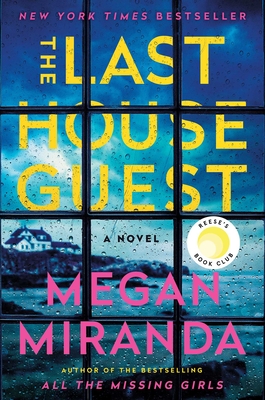 Staff Reviews
---
Twisty and turny! I think this is Megan Miranda's best book yet!
In a seaside town in Maine, there are two sides; the residents year round, and the summer people who own a lot of the town and rent it out seasonally. This character driven novel is about two friends, Avery and Sadie. Sadie commits suicide at the end of the summer. The story takes place the following summer as the anniversary approaches. Avery is left wondering why she did it and all the suspects begin piling up.
Avery cannot believe her strong-willed, confident, best friend would ever do such a thing. As the community begins to rally against Avery's beliefs that Sadie was murdered, it appears that someone does not want the truth behind Sadie's death to leak. Avery will avenge her best friend's death, even if it means that she has to fight off those who are out to get her as well.
— Karen
Description
---
"Once again, Megan Miranda has crafted the perfect summer thriller. The Last House Guest is twisty and tense, with a pace that made my heart race. An edge-of-your-seat, up-all-night read." —Riley Sager, New York Times bestselling author of The Last Time I Lied

"No one can be trusted in the latest chilling thriller from master of suspense, Megan Miranda. The Last House Guest is a lightning-fast mystery, full of menace and unexpected twists and turns that will have readers on the edge of their seats. A riveting read!" —Mary Kubica, New York Times bestselling author of The Good Girl

"If you want to sample the black humor of summer resort relationships, have breakfast at the local diner of a pretty coastal town like Littleport, Me., the setting for Megan Miranda's The Last House Guest. Dizzying plot twists and multiple surprise endings are this author's stock in trade, but she warms them up by establishing the close friendship between Sadie Loman...and Avery Greer...And, oh boy, does she ever know how to write a twisty-turny ending (or two, or more)." —Marilyn Stasio, The New York Times Book Review

Littleport, Maine, has always felt like two separate towns: an ideal vacation enclave for the wealthy, whose summer homes line the coastline; and a simple harbor community for the year-round residents whose livelihoods rely on service to the visitors.

Typically, fierce friendships never develop between a local and a summer girl—but that's just what happens with visitor Sadie Loman and Littleport resident Avery Greer. Each summer for almost a decade, the girls are inseparable—until Sadie is found dead. While the police rule the death a suicide, Avery can't help but feel there are those in the community, including a local detective and Sadie's brother, Parker, who blame her. Someone knows more than they're saying, and Avery is intent on clearing her name, before the facts get twisted against her.

Another thrilling novel from the bestselling author of All the Missing Girls and The Perfect Stranger, Megan Miranda's The Last House Guest is a smart, twisty read with a strong female protagonist determined to make her own way in the world.
About the Author
---
Megan Miranda is the New York Times bestselling author of All the Missing Girls. She has also written several books for young adults, including Fracture, Hysteria, Vengeance, Soulprint, and The Safest Lies. She grew up in New Jersey, graduated from MIT, and lives in North Carolina with her husband and two children. The Perfect Stranger is her second novel of psychological suspense and The Last House Guest is the latest. Follow @MeganLMiranda on Twitter, or visit MeganMiranda.com.
Praise For…
---
PRAISE FOR THE LAST HOUSE GUEST BY MEGAN MIRANDA

"If you want to sample the black humor of summer resort relationships, have breakfast at the local diner of a pretty coastal town like Littleport, Me., the setting for Megan Miranda's The Last House Guest. Dizzying plot twists and multiple surprise endings are this author's stock in trade, but she warms them up by establishing the close friendship between Sadie Loman...and Avery Greer...And, oh boy, does she ever know how to write a twisty-turny ending (or two, or more)."—MARILYN STASIO, New York Times Book Review

"Once again, Megan Miranda has crafted the perfect summer thriller. The Last House Guest is twisty and tense, with a pace that made my heart race. An edge-of-your-seat, up-all-night read."—RILEY SAGER, New York Times bestselling author of The Last Time I Lied

"No one can be trusted in the latest chilling thriller from master of suspense, Megan Miranda. The Last House Guest is a lightning-fast mystery, full of menace and unexpected twists and turns that will have readers on the edge of their seats. A riveting read!"—MARY KUBICA, New York Times bestselling author of The Good Girl

"This searing small-town thriller from bestseller Miranda (The Perfect Stranger) explores the complexities of female friendship and the picturesque fictions that money can buy...Sharply drawn characters both ground and elevate the bombshell-laden plot, while evocative prose heightens tension and conjures place. Miranda delivers a clever, stylish mystery that will seize readers like a riptide."—PUBLISHERS WEEKLY (starred review)

"The narrative, which flips between 2017 and 2018, grows increasingly tense as Avery, who is a surprisingly reliable narrator, gets closer to the truth...Most compelling are the class tensions between Littleport's year-round residents and the seasonal, moneyed tourists as well as the elusive nature of memory and the intricacies of friendship. An evocative…thriller."—KIRKUS REVIEWS

"The vivid description of this isolated town sets the stage for the revelation of Littleport's secrets...Miranda's exploration of how Avery's and Sadie's lives intertwine give the story its depth. Fans of Michele Campbell and Mary Kubica, who like family drama supporting their suspense, will enjoy."—BOOKLIST

Praise for ALL THE MISSING GIRLS

***A NEW YORK TIMES BESTSELLER***

A New York Times Book Review "Editors' Choice"

"This thriller's all of your fav page-turners (think: Luckiest Girl Alive, The Girl on the Train, Gone Girl) rolled into one."
—theSkimm

"Both [Gillian] Flynn's and Miranda's main characters also reclaim the right of female characters to be more than victim or femme fatale… All the Missing Girls is set to become one of the best books of 2016."
—Los Angeles Review of Books

"Extremely interesting… A novel that will probably be called Hitchcockian."
—The New York Times Book Review

"Are you paying attention? You'll need to be; this thriller will test your brain with its reverse chronological structure, and it's a page-turner to boot."
—ELLE.COM

"Intricately plotted… Ms. Miranda brings heightened suspense and a twist to this familiar scenario by telling the story, which unfolds over 15 days, in reverse chronological order."
—The New York Times

"Fast-paced and frightening, All the Missing Girls will teach you why it's dangerous to go into the woods alone at night."
—Refinery29

"All the Missing Girls is the archetypal murder mystery, the kind it seems like everyone has been hungry for since Gillian Flynn's Gone Girl and Paula Hawkins's Girl on the Train."
—Cosmopolitan.com

"A new spin on a classic 'missing person' thriller, All the Missing Girls is the perfect read for thriller fans."
—Bustle.com

"A twisty, compulsive read—I loved it."
—Ruth Ware, author of THE WOMAN IN CABIN 10

"Fiendishly plotted."
—Publishers Weekly, starred review

"Darkly nostalgic.... Miranda takes a risk by telling the story backward, but it pays off with an undroppable thriller, plenty of romantic suspense, and a fresh take on the decades-old teenage-murder theme."
—Booklist


*********

Praise for THE PERFECT STRANGER

"Miranda's eerie suspense thriller...smartly examines the slippery theme of personal identity. In a world where identities are regularly lost, stolen or sacrificed for reasons innocent and otherwise, it's not enough to wonder where Emmy has gone. We need to know who she is, if she is who she says she is—and if she exists at all."
—New York Times Book Review

"Fans of Gillian Flynn, Chevy Stevens, and Jennifer McMahon will devour this relentlessly paced and deftly plotted thriller... The story moves at a feverish, unfaltering pace, keeping readers just as perplexed as the characters."
—Publishers Weekly

"YA author Miranda, who moved into the adult market with All the Missing Girls, proves she isn't a one-hit wonder with this exciting thriller. Its twisty tale with many layers—a little romance, great writing, and an awesome story line—will keep psychological suspense fans turning the pages."
—Library Journal

"Solid plot... An entertaining read."
—Kirkus Reviews

"An excellent second novel of psychological suspense…Highly recommended for fans of Alafair Burke, Gillian Flynn, and Lisa Lutz, and for all readers who like their female characters clever and resourceful, even when their best friends become their worst nightmares."
—Booklist

"Fans of Gone Girl and The Girl on the Train will blow through this new thriller."
—PureWow

"Megan Miranda does a terrific job in this book of creating and maintaining an atmosphere of menace and uncertainty. She skillfully drip-feeds the truth about Leah's situation, hinting at what she's running from and slowly fitting the pieces of the puzzle together – although it's not until well into the story that we finally discover the nature of the terrifying events that set her on the path she's now travelling."
—All About Romance

"The distinct and well-defined characters add to the suspense, complete with twists and turns, and will make the reader wonder."
—New York Journal of Books

"Fans of Miranda's may rejoice, and those that haven't read her work will have to start now. This riveting psychological thriller may leave you jumping at strange noises and sleeping with the lights burning, but oh, it will be worth it!...The plot here is taut and original, but the success of the story hinges on character."
—Seattle Book Mania