The Hazel Wood: A Novel (Hardcover)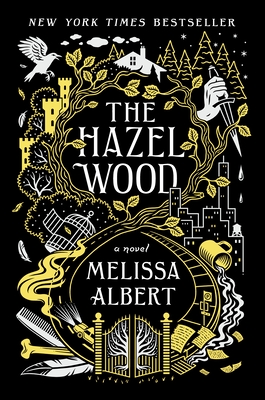 Staff Reviews
---
This book was a stand-alone that I almost wish has a sequel. THE HAZEL WOOD was such a fantastical story. Alice seems normal and at the point where we meet her, she is living a pretty normal existence. She lives with her mother and step-father. They are wealthy but Alice knows her mother is not happy. Soon they will probably be moving, as they have been doing since Alice was a baby.
Alice is the perfect blank slate character. She is just as confused as we are in this story. She doesn't understand her past and doesn't have any real friends except maybe her sister-in-law. After Ella is kidnapped, Alice sets out with one of her Althea's fanatic fans to find The Hazel Wood. For Finch, this is the trip of a life time. For Alice, this trip is a life and death mission to find and rescue Ella.
The beginning of this story is slow and then the story picks up around the time that Ella gets kidnapped. From there, the story turns into a real magical mystery and the story gets kinda dark. There were points in this adventure to find The Hazel Wood that I was genuinely afraid. Once we find the Hazel Wood the story flips and bends and we go sideways. It was pretty amazing.
My favorite parts of this story, other than the creepy scenes, were the parts where Finch retold the stories in Althea's book to Alice. I can't reveal too much more other than to say that. THE HAZEL WOOD surprised me in the best sort of way. I loved this book and I highly recommend this.
— Karen Opper
Summer 2019 Reading Group Indie Next List
---
"If you like your fairy tales dark and spooky, you will love The Hazel Wood. It is brilliantly twisty, with a not-always-likable main character named Alice whose whole life has been one bit of bad luck followed by another. Now her mother is missing, and the disappearance may have something to do with Alice's estranged grandmother, the author of a collection of creepy short stories with a cult following. Joined by her classmate Ellery Finch, a boy with questionable motives, Alice sets off for her grandmother's estate, the Hazel Wood, to confront her and to find her mom. But the Hazel Wood has other plans for Alice, and only by facing her destiny can she rewrite her own fate."
— Jenny Chou, Boswell Book Company, Milwaukee, WI
Description
---
Welcome to Melissa Albert's The Hazel Wood—the fiercely stunning New York Times bestseller everyone is raving about!

Seventeen-year-old Alice and her mother have spent most of Alice's life on the road, always a step ahead of the uncanny bad luck biting at their heels. But when Alice's grandmother, the reclusive author of a cult-classic book of pitch-dark fairy tales, dies alone on her estate, the Hazel Wood, Alice learns how bad her luck can really get: Her mother is stolen away—by a figure who claims to come from the Hinterland, the cruel supernatural world where her grandmother's stories are set. Alice's only lead is the message her mother left behind: "Stay away from the Hazel Wood."
Alice has long steered clear of her grandmother's cultish fans. But now she has no choice but to ally with classmate Ellery Finch, a Hinterland superfan who may have his own reasons for wanting to help her. To retrieve her mother, Alice must venture first to the Hazel Wood, then into the world where her grandmother's tales began—and where she might find out how her own story went so wrong.
About the Author
---
Melissa Albert is the founding editor of the Barnes & Noble Teen Blog and the managing editor of BN.com. She has written for McSweeney's, Time Out Chicago, MTV, and more. Melissa is from Illinois and lives in Brooklyn, New York. The Hazel Wood is her first novel.
Praise For…
---
New York Times bestseller
Seven starred reviews
Indies' Choice Book Award Finalist
New York Times Notable YA Book of 2018
Boston Globe Best Book of the Year
Wall Street Journal Best Children's Book of the Year
#1 ABA IndieNext Pick
ABA Indies Introduce Selection
Junior Library Guild Selection
ALA's Best Fiction for Young Adults List
Seventeen Best YA Book of the Year
The Guardian Best Children's Book of the Year
Entertainment Weekly Top 10 YA Novel of the Year
Bustle Best YA Book of the Year
BookPage Best Book of the Year
Bank Street Best Children's Book of the Year
Indigo Best Book of the Year
Books-a-Million Best Book of the Year
Goodreads Choice Award Finalist
Publishers Weekly Flying Start
Seattle Public Library "10 Young Adult Books We Love 2018"
Romantic Times Seal of Excellence Winner

"The Hazel Wood starts out strange and gets stranger, in the best way possible. Albert seamlessly combines contemporary realism with fantasy, blurring the edges in a way that highlights that place where stories and real life convene, where magic contains truth, and the world as it appears is false, where just about anything can happen, particularly in the pages of a good book. It's a captivating debut." —The New York Times Book Review
"An original and imaginative fairy tale: thrilling, fascinating, and poignant in equal measure. Grade: A-." —Entertainment Weekly, Best New Books

"Insidiously beautiful, this is the opposite of escapist fantasy; it is a story about the imagination's power to loose atrocity into the (mostly) law-abiding confines of the real." —The Guardian

"A darkly brilliant story of literary obsession, fairy-tale malignancy, and the measures a mother will take to spare her child." —The Wall Street Journal, Best Children's Book of the Year

"An eerie, assured first novel. Albert occasionally entwines the haunting tales of the grandmother's book through this mesmerizing narrative, creating a fantasy as lush and twisty as ivy." —The Washington Post

"One of those rare young adult fantasy novels that holds a self-contained world in only a few hundred pages. If the novel's heroine is a teenage girl, then her story will appeal to readers of all ages, with its intrigue and strange fairy tale magic and very grown up writing." —Esquire

"A can't-miss, dark, and creepy new take on fairy tales that will have you glued to the page until the very end." —BuzzFeed
"This extremely creepy, wondrously original and beautifully written book conjures up a dark, bloody netherworld of fairytales and enchants and enthralls from the first sentence to the final page." —The Buffalo News
"A contemporary fantasy that dwells in an atmospheric, intertwining world of terrifying circumstances; a breathtaking dive into the magic and importance of story in one's identity. 'Story is the fabric of the Hinterland,' one of the residents tells Alice. Another says, stories 'create the energy that makes this world go. They keep our stars in place.' If this is so, Albert's exquisite wordsmithing and story weaving have kept the stars aloft for a new generation of readers." —Shelf Awareness, starred review
"Alice's sharp-edged narration and Althea's terrifying fairy tales, interspersed throughout, build a tantalizing tale of secret histories and magic that carries costs and consequences. There is no happily-ever-after resolution except this: Alice's hard-won right to be in charge of her own story." —Publishers Weekly, starred review
"Highly literary, occasionally surreal, and grounded by Alice's clipped, matter-of-fact voice, The Hazel Wood is a dark story that readers will have trouble leaving behind. The buzz for this debut is deafening, and the fact that the film adaption is already in the works doesn't hurt." —ALA Booklist, starred review
"Simultaneously wondrous and horrific, dreamlike and bloody, lyrical and creepy, exquisitely haunting and casually, brutally cruel. Not everybody lives, and certainly not 'happily ever after'—but within all the grisly darkness, Alice's fierce integrity and hard-won self-knowledge shine unquenched." —Kirkus Reviews, starred review
"An empowering read that will be especially popular with fans of fairy-tale retellings." —School Library Journal, starred review
"Fans of the dark supernatural will gobble this up." —Bulletin of the Center for Children's Books, starred review
"Albert weaves a spellbinding, dark tale. The smoke-and-mirrors world of the Hazel Wood is deliciously creepy and its denizens are well-drawn." —VOYA, starred review

"It's no exaggeration to say that The Hazel Wood is one of the most anticipated books of the year. Fortunately this is one of those cases where the hype is justified. Readers, especially those with a fondness for dark fairy tales, won't want to miss this brilliant combination of realistic fiction and fantasy." —BookPage
"The Hazel Wood is a rich tapestry of dangerous delights, and it effortlessly balances charm, malice, beauty, and fear. The diverse characters, gritty twists and turns, vivid imagery, and captivating premise make this the perfect choice for fans of Lev Grossman, Lewis Carroll, and Edgar Allan Poe. Chilling, atmospheric, as fresh as it is dark: the must-read of the season!" —Romantic Times, RT Seal of Excellence
"The Hazel Wood is thoroughly, creepily captivating, with surprises I never saw coming! Such a refreshing and beautifully written inversion of the classic fairy tale-inspired story." —Kristin Cashore, author of Graceling
"This book will be your next literary obsession. Welcome to the Hazel Wood, where bad luck is a living thing, princesses are doomed, and every page contains a wondrously terrible adventure—it's not safe inside these pages, but once you enter, you may never want to leave. The Hazel Wood is pure imagination candy." —Stephanie Garber, author of Caraval

"Dark, spellbinding, and magical. One of the most original books I've read in years—The Hazel Wood is destined to be a classic." —Kami Garcia, author of Beautiful Creatures
"Reader, I warn you: this book beckoned me in with delicate claws then sank its teeth into my heart. I fear a part of me will never escape The Hazel Wood." —Heidi Heilig, author of The Girl from Everywhere

"Melissa Albert's The Hazel Wood is an elegant dark fairy tale, full of the power of story. It's creepy and gorgeous, and I loved every word." —Kat Howard, author of An Unkindness of Magicians

"Elegant, ethereal, and beautifully brutal, The Hazel Wood is a fairy tale worth falling for. This is a dream of a book I cannot recommend highly enough. It's like falling into a nautilus shell: every time you think you've found the end, another chamber opens. Absolutely breathtaking." —Seanan McGuire, author of Every Heart a Doorway

"Absolutely mesmerizing, magical, and inventive. Hats off to Melissa Albert!" —Karen McManus, author of One of Us Is Lying
"Dark, haunting, and absolutely mesmerizing: The Hazel Wood grabbed me with its mysterious, upside-down fairy tales, full of thorns and sharp twists. In no time at all, I became obsessed with this book, willing to follow it anywhere—even deep into the Hinterland." —Jodi Meadows, coauthor of My Lady Jane

"The Hazel Wood kept me up all night. I had every light burning and the covers pulled tight around me as I fell completely into the dark and beautiful world within its pages. Terrifying, magical, and surprisingly funny, it's one of the very best books I've read in years." —Jennifer Niven, author of All the Bright Places

"A winding, creepy, insidiously delicious novel. Utterly spectacular. I read it in one sitting!" —Melinda Salisbury, author of The Sin-Eater's Daughter

"Full of dark, twisty corners and eerie beauty, The Hazel Wood is like nothing else I've read before." —Evelyn Skye, author of The Crown's Game