All Is Not Forgotten: A Novel (Paperback)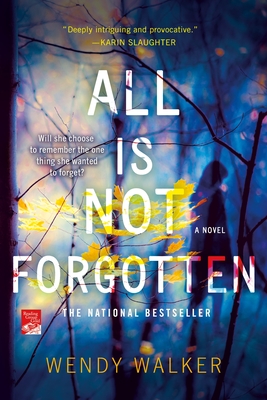 $16.99
Not in Store- Usually Ships in 1-5 Days
Staff Reviews
---
ALL IS NOT FORGOTTEN is one of my favorite books!
Teenage Jenny went to a party one night and ended up brutally raped. This story is told by Dr. Alan Forrester who begins treating Jenny Kramer a few months after the incident. Charlotte, Jenny's mother, decided to try a controversial treatment for Jenny immediately after the rape. This treatment wiped the rape from Jenny's memory completely. As Jenny returns to her life, she starts having issues and decides she wants to remember. The ghosts of the traumatic event still haunt her. The worst part is that there was no physical evidence to help police catch the rapist, he could be anyone.
Alan tells the story of Jenny trying to remember, and how the rape affected her parents, Charlotte and Tom. Charlotte and Tom have their own issues, but not knowing who did this drives a wedge between them. Alan also gives us details about the police investigation and their frustration in trying to figure out who did it.
This story features realistic characters. The story is only in Dr.Forrester's POV, but through his eyes we see the real motivations and actions of every one. Behind this story of trying to figure out who-done-it is the medical science of PTSD and how best to help victims. In Alan's POV, everyone is a victim, even himself.
This story had so many layers. Although it is told in a conversational manner, we aren't really sure who is telling the story at first. The rape is described in all it's gruesome details, and then we see how everyone responded immediately. When Dr.Forrester starts treating the family, we sit in on sessions with everyone. I could sense the frustration in the narrator to help these people, without interfering.
One of the best aspects of this book is the science behind it. Without going into technical terms, the narrator is able to give us the history and methods for treating PTSD. As time goes on, we see Dr.Forrester treating Jenny as well as a former Navy Seal after they have their traumatic memories erased. What we come to realize very early on is that not remembering is always worse since the brain needs to recognize the triggers of traumatic events and how to best deal with them takes time.
Underneath all of this science is the police investigation into who could have possibly done this to Jenny. This whole story takes place in a small town in affluent Connecticut. No ones wants to believe this was done by a local, the idea of having a rapist in this small town is horrifying.
I was completely shocked at the ending of this story. Just when I thought I had it figured out, I found that I was suspecting all the wrong people. This is an excellent book. I cannot recommend this story enough to readers who want a thought provoking thriller.
— Karen
July 2016 Indie Next List
---
"This powerful and intense psychological thriller explores the memory of trauma and how it affects our very being. When 16-year-old Jenny Kramer is brutally raped and then given a controversial drug to erase her memory of the event, her parents think it will allow them all to return to their normal, idyllic life in an affluent small town in Connecticut. But that is far from the truth. What ensues is a fascinating look at psychiatric treatment and the lies people tell themselves and others in order to feel whole. Secrets are revealed and integrity is tested as, indeed, all is not forgotten."
— Nancy McFarlane (E), Fiction Addiction, Greenville, SC
Description
---
"An assured, powerful novel that blends suspense and rich family drama...it is, in a word, unforgettable." --William Landay, author of DEFENDING JACOB
Wendy Walker's All Is Not Forgotten begins in the small, affluent town of Fairview, Connecticut, where everything seems picture perfect.
Until one night when young Jenny Kramer is attacked at a local party. In the hours immediately after, she is given a controversial drug to medically erase her memory of the violent assault. But, in the weeks and months that follow, as she heals from her physical wounds, and with no factual recall of the attack, Jenny struggles with her raging emotional memory. Her father, Tom, becomes obsessed with his inability to find her attacker and seek justice while her mother, Charlotte, struggles to pretend this horrific event did not touch her carefully constructed world.
As Tom and Charlotte seek help for their daughter, the fault lines within their marriage and their close-knit community emerge from the shadows where they have been hidden for years, and the relentless quest to find the monster who invaded their town - or perhaps lives among them - drive this psychological thriller to a shocking and unexpected conclusion.
About the Author
---
Wendy Walker is a former commercial litigator and investment banker who now works at home in Connecticut writing and raising her children.  She is the author of the novels Four Wives and Social Lives, and is the editor of Chicken Soup for the Soul: Power Moms, Chicken Soup for the Soul: Thanks Mom, and Chicken Soup for the Soul: Thanks Dad. She is currently working on her next book.
Praise For…
---
Praise for All is Not Forgotten
"Nerve-jangling." –TheWashington Post
"An exhilarating poolside read." –InStyle
"Plenty of room for plot twists and surprises." –Real Simple
"In affluent Fairview, Conn., a young girl who's been sexually assaulted is given a drug to help her forget–and the fallout isn't what anyone expected. Twisty and spellbinding." –People
"A dark and twisting psychological thriller that had me guessing until the very end." –Reese Witherspoon
"Exceptional…stunning." –Publishers Weekly (starred review)
"The cast is immensely relatable and book groups will enjoy." –Booklist
"Dripping in suspense and the darkest shades of family drama." –sheknows.com
"Exceptionally well-written."–redcarpetcrash.com
"Deeply intriguing and provocative, All Is Not Forgotten explores intricate family relationships against the backdrop of searing suspense. A novel filled with twists, surprises, and a plot that keeps you guessing. All Is Not Forgotten is not to be missed." –Karin Slaughter, author of PRETTY GIRLS
"An assured, powerful, polished novel that blends suspense and rich family drama. Built on a fascinating scientific premise and laced with moral complexity, it is, in a word, unforgettable." –William Landay, author of DEFENDING JACOB
"Captivating and bold, Wendy Walker takes an incisive look at the importance of memory and the power of manipulation. Fascinating and at times shocking, All Is Not Forgotten is one book you won't easily forget. Not to be missed!" –Mary Kubica, author of THE GOOD GIRL
"With an exceptionally unreliable narrator and unique plot set-up, All Is Not Forgotten is a compelling, thought-provoking mystery that will have you looking at every therapist you know in a brand new light." –Kimberly McCreight, author of WHERE THEY FOUND HER
"In the brutal, heart-pounding All Is Not Forgotten, memory cannot be trusted; when a girl is given "the treatment" to erase her memories of a vicious attack, a small town crumbles under the weight of its secret peccadilloes, dangerous alliances, and the question of what really happened that dark night. A fascinating and compelling novel." –Miranda Beverly-Whittemore, author of BITTERSWEET