Nyxia (The Nyxia Triad #1) (Hardcover)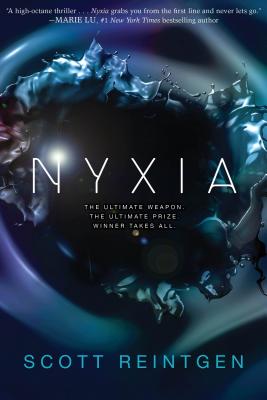 Staff Reviews
---
NYXIA is something really unique. Emmett and his friends were hand chosen for a chance to be the first people to travel to the alien planet Eden. Emmett finds himself fighting with a team of nine other competitors in daily trials to be on top because the bottom two won't be going to the planet. The technology is advanced beyond anything they have ever encountered and the company taking him there, Babel, isn't telling them everything. Emmett and his team are working with a substance called Nyxia that can only be found on a planet called Eden. There they will work not only to mine Nyxia, but they will encounter an alien race that reveres children above all else.
All of the characters in this story bring their own flavor to the competition. Emmett may be poor, but he has a solid family backing him up. I loved how he uses gems of wisdom from his family to morally navigate through the competition.
"When you look back, it won't be mercy you regret."
They is also a diverse cast from different parts of the world and different strengths. Babel supplies the diverse cast for the competition with masks that allow them to be hear in a common language. It doesn't sound plausible, but it works in this story.
My favorite characters from this story were many but two really stand out for me. Kaya (Emmett's roommate)- a girl from Japan who is brilliant when it comes to strategy. She makes Emmett an early alliance and shows Emmett how everyone there is broken. I really loved her. Bilal– a Palestinian boy who always sees the good in everything. His smile and enthusiasm bring Emmett up so many times when he gets down. I wanted so much for Bilal and Kaya. I am just going to leave it at that.
The substance Nyxia bares mentioning here. Nyxia is such a huge part of the story and it is also so fucking brilliant. Nyxia is this substance that can transform into almost anything with just a thought. It is also the main reason why Babel wants to get their hands on more of it. Of course, wielding it takes practice which is part of the competition.
This story was so well written. It was fast paced with a lot of emphasis on the competition. Details are expertly woven into the story so that it felt like I was right there. I could see and feel every detail Emmett encountered in his journey. The whole story takes place on a spaceship in route to Eden. It was fun exploring the ship and trying to uncover the secrets of Babel while in the middle of this race for points.
I tried really hard to think of something negative about this book, and the only thing that came up for me was the sort of rushed romance that appears at the end of the story. I am sure it will develop nicely in the next book. We didn't even get to the actually planet but that didn't even bother me. This story stayed with my long after I read the last page. It gave me a book hangover in the best kind of way. I will file this under E for Excellent.
— Karen Opper
Description
---
"A high-octane thriller . . . Nyxia grabs you from the first line and never lets go." —Marie Lu, #1 New York Times bestselling author of Warcross

Every life has a price in this sci-fi thriller—the first in a trilogy—that has the nonstop action of The Maze Runner and the high-stakes space setting of Illuminae. 
 
What would you be willing to risk for a lifetime of fortune?
 
Emmett Atwater isn't just leaving Detroit; he's leaving Earth. Why the Babel Corporation recruited him is a mystery, but the number of zeroes on their contract has him boarding their lightship and hoping to return to Earth with enough money to take care of his family.
 
Forever.
 
Before long, Emmett discovers that he is one of ten recruits, all of whom have troubled pasts and are a long way from home. Now each recruit must earn the right to travel down to the planet of Eden—a planet that Babel has kept hidden—where they will mine a substance called Nyxia that has quietly become the most valuable material in the universe.
 
But Babel's ship is full of secrets. And Emmett will face the ultimate choice: win the fortune at any cost, or find a way to fight that won't forever compromise what it means to be human.
 
"The 100 meets Illuminae in this high-octane sci-fi thriller." —Bustle

AND DON'T MISS NYXIA UNLEASHED!

About the Author
---
Scott Reintgen has spent his career as a teacher of English and creative writing in diverse urban communities in North Carolina. The hardest lesson he learned was that inspiration isn't equally accessible for everyone. So he set out to write a novel for the front-row sleepers and back-row dreamers of his classrooms. He hopes that his former students see themselves, vibrant and on the page, in characters like Emmett. You can follow him on Facebook, on Instagram, and on Twitter at @Scott_Thought.
Praise For…
---
"Fans of the 'Hunger Games' and the 'Maze Runner' series will enjoy this series opener." —SLJ

"Both curious and suspicious at every turn, [Emmett] is an ideal narrator, and a sequel can't come soon enough." —The Bulletin

"Emmett's self-deprecation, wit, and ability to see the good in others will keep readers riveted and eager for the next volume in this planned trilogy." —PW 

"Nyxia seems to have a mind of its own, but its mystery will carry over into the sequel, which cannot come soon enough." —VOYA