Before She Ignites (Fallen Isles #1) (Hardcover)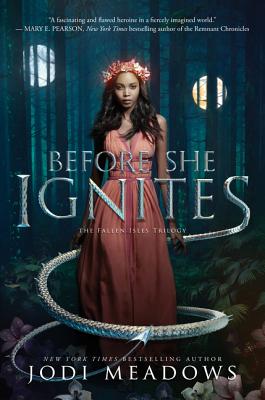 $17.99
Not in Store- Usually Ships in 1-5 Days
Staff Reviews
---
There is so much I want to tell you about this book and why you should read it. DRAGONS! Yes, and done well in world where they are necessary to appease the gods. They used to be fighting along side warriors to defend the realm, but the Mira Treaty makes owning them illegal. It also opens them up for trade to other realms. Of course, Mira is powerless in her prison. Or is she? Mira alone is the voice of the royal court so it's up to her to say what the people need to hear. She is also one of the only people in this era that has actually owned a dragon and had some experience in their presence. This makes her so much more valuable to those in control in the pit and to those free in the realm above her.
This story jumps right in with Mira's discovery of the shipping details of her beloved dragons. When she confronts those in power, she finds herself in a dark lonely prison cell surrounded by criminals. She forms a bond with the almost silent boy next door and the strong warrior girl in the cell across from her. Mira also has her neuroses to keep her company. Mira's OCD and anxiety is well described and played out. I believed she struggled and I struggled right along with her. I also really enjoyed the descriptive details the author used to let me see Mira and her surroundings perfectly.
This story is told in alternate timelines which allows us to see Mira before, when she was dealing with bitch mother and handling dragons almost daily, and now, when she is in the pit. This story was full of surprises, from the love interest, to the dramatic finish. I never knew who to trust and like Mira I found myself mystified by the lights that kept the pit lit up during the day and pitch black at night. There is much more going on in this story besides the dragons, but they are such an amazing part of this story.
I really enjoyed this story and the ending left me wanting MORE. So I would definitely recommend this. The only thing I will admit is that the beginning is a bit confusing and may leave some readers quitting it early. It gets so much better though and that ending blew me away. I am anxiously awaiting the sequel.
— Karen Opper
Description
---
"A fully realized fantasy world complete with dragons, treachery, and flawed characters discovering their courage. I couldn't put it down!" —C. J. Redwine, New York Times bestselling author of The Shadow Queen
From the New York Times bestselling co-author of My Plain Jane comes a smoldering new fantasy trilogy perfect for fans of Victoria Aveyard and Kristin Cashore about a girl condemned for defending dragons and the inner fire that may be her only chance of escape.
Mira has always been a symbol of hope for the Fallen Isles, perfect and beautiful—or at least that's how she's forced to appear. But when she uncovers a dangerous secret, Mira is betrayed by those closest to her and sentenced to the deadliest prison in the Fallen Isles.
Except Mira is over being a pawn. Fighting to survive against outer threats and inner demons of mental illness, Mira must find her inner fire and the scorching truth about her own endangered magic—before her very world collapses.

And that's all before she ignites. 
About the Author
---
Jodi Meadows wants to be a ferret when she grows up and she has no self-control when it comes to yarn, ink, or outer space. Still, she manages to write books. She is the author of the Incarnate trilogy, the Orphan Queen duology, and the Fallen Isles trilogy and coauthor of the New York Times bestseller My Lady Jane. Visit her at www.jodimeadows.com.
Praise For…
---
 "In this first of the Fallen Isles Trilogy, Meadows sows the seeds for an exciting follow-up and creates a rich, vivid world with characters who blossom on the page…. A page-turner that promises future intrigue, special powers, and dragon adventures."
— Kirkus Reviews

"Meadows portrays acutely Mira's insecurities about not living up to the demands of her station or to her mother's expectations…while exploring issues of inclusivity and discrimination. Fans of Naomi Novik's Temeraire series or Julie Kagawa's Talon books will be delighted."
— Publishers Weekly

"The complex political system is compellingly built, and Mira's characterization is admirable. Hand to fans of rich world building—and, of course, fans of dragons."

— ALA Booklist

"...fast-paced, with surprising twists and turns. This richly written fantasy—the first in a trilogy—will keep readers asking whom to trust and wondering what's true."
— School Library Journal

"If you were looking for a new YA fantasy book to read with incredibly diverse characters, fantastical world-building, and a riveting plot, then Before She Ignites is the book for you. This book is what the future of the YA genre should be."
— Geeks of Color

"Do not walk, run to get this book, so you can devour it like I did! Mira is a fascinating and flawed heroine who tilts the world on its side. I loved her and this fiercely imagined world. Jodi Meadows is a genius."
— Mary Pearson, New York Times bestselling author of The Remnant Chronicles

"A fully realized fantasy world complete with dragons, treachery, and flawed characters discovering their courage. I couldn't put it down!"
— C .J. Redwine, New York Times bestselling author of The Shadow Queen

"Complex world-building and luminous storytelling. Mira will sear a mark on your heart long after the final page is consumed."
— Stacey Lee, award-winning author of Outrun the Moon

Meadows weaves a taut narrative of loss, betrayal, and friendship, building a politically and environmentally fascinating world that readers who are looking for fantasies that center on people of color will especially appreciate.
— Bulletin of the Center for Children's Books