Sunburn: A Novel (Hardcover)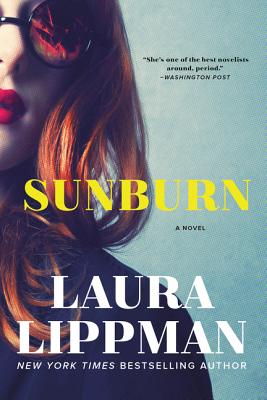 $26.99
Not in Store- Usually Ships in 1-5 Days
Staff Reviews
---
SUNBURN brings something really different to the mystery genre. Loads of books give more than one POV but usually the it is fairly easy to choose sides. SUNBURN made me love and root for both the primary characters, even though I knew their secrets. They aren't exactly on each other's sides. They aren't exactly against each other either.
This story unwraps in layers. There isn't much happening in the beginning of this story. The author carefully crafts the characters and gives us a feel for who they think they are. I was so enthralled by the driving forces for these characters. The story really picked up by the halfway mark when someone in the town dies. Was it intentional, or a terrible accident?
The main theme of this story is the relationship between Adam and Polly. They are so addicted to each other and yet they are both hiding who they truly are. This kind of romance can't possibly work, right? They are both just biding their time and denying how much they care about each other. The characters are both running a long game, but who will come out on top?
I would love to talk about this whole book but it would include major spoilers. I highly recommend you go into this story blind. SUNBURN combines romance with lies, betrayal, lust, theft, blackmail, money and revenge. This carefully plotted story kept me surprised.
— Karen Opper
March 2018 Indie Next List
---
"Sunburn pays homage to the novels of James M. Cain, offering up crooked cops, handsome drifters, and, of course, a femme fatale. Watch the secrets unravel as a runaway wife with an ugly past takes up in a small town. Lovers of noir will delight in the familiar tropes. We know she's bad, but how bad is she? Will an affair between two untrustworthy people turn into true love? Sunburn is the perfect book to take on that spring break to a sunny locale. Pour the lemonade and lay out your beach towel."
— Sarah Sorensen, Bookbug, Kalamazoo, MI
Description
---
Named one of the Most Anticipated Books of 2018 by Bustle, Popsugar, Wall Street Journal, Entertainment Weekly, Seattle Times, Book Riot, LitHub, BookPage, and Paperback Paris.
"Every time Laura Lippman comes out with a new book, I get chills because I know I am back in the hands of the master. She is simply a brilliant novelist, an unflinching chronicler of life in America right now, and Sunburn is her dark, gleaming noir gem. Read it." -Gillian Flynn, #1 New York Times bestselling author of Gone Girl
New York Times bestselling author Laura Lippman returns with a superb novel of psychological suspense about a pair of lovers with the best intentions and the worst luck: two people locked in a passionate yet uncompromising game of cat and mouse. But instead of rules, this game has dark secrets, forbidden desires, inevitable betrayals—and cold-blooded murder.
One is playing a long game. But which one?
They meet at a local tavern in the small town of Belleville, Delaware. Polly is set on heading west. Adam says he's also passing through. Yet she stays and he stays—drawn to this mysterious redhead whose quiet stillness both unnerves and excites him. Over the course of a punishing summer, Polly and Adam abandon themselves to a steamy, inexorable affair. Still, each holds something back from the other—dangerous, even lethal, secrets.
Then someone dies. Was it an accident, or part of a plan? By now, Adam and Polly are so ensnared in each other's lives and lies that neither one knows how to get away—or even if they want to. Is their love strong enough to withstand the truth, or will it ultimately destroy them?
Something—or someone—has to give.
Which one will it be?
Inspired by James M. Cain's masterpieces The Postman Always Rings Twice, Double Indemnity, and Mildred Pierce, Sunburn is a tantalizing modern noir from the incomparable Laura Lippman.
About the Author
---
Since Laura Lippman's debut in 1997, she has been recognized as a distinctive voice in mystery fiction and named one of the "essential" crime writers of the last 100 years. Her books have won most of the major awards in her field and been translated into more than twenty languages. She lives in Baltimore and New Orleans with her family.
Praise For…
---
"Fast-paced and unpredictable, Sunburn is a smart, sly riff on love in a world of trouble that's puzzling until the very last piece falls into place."
— O, the Oprah Magazine

"Cool and twisty."
— New York Times Book Review

"A masterful mix from a total pro."
— People

"Every time Laura Lippman comes out with a new book, I get chills because I know I am back in the hands of the master. She is simply a brilliant novelist, an unflinching chronicler of life in America right now, and Sunburn is her dark, gleaming noir gem. Read it."
— Gillian Flynn, #1 New York Times bestselling author of Gone Girl

"Laura Lippman continues to push the envelope of modern crime-writing. Sunburn, her take on noir, may be her nerviest novel yet, an unsparing look at how lovers can betray one another."
— Harlan Coben, #1 New York Times bestselling author

"Suspenseful as hell, and she writes like a dream [...] Lippman's always good, but this is a cut above."
— Stephen King

"Modern noir at its best, it will delight old-movie lovers, satisfy suspense readers, and reward Lippman's legion of fans."
— Library Journal (starred review)

"You can tell how much fun the author had updating the classic noir tropes, and it's contagious. Plotty, page-turning pleasure."
— Kirkus Reviews (starred review)

"This is Lippman at her observant, fiercest best, a force to be reckoned with in crime fiction."
— Publishers Weekly (starred review)

"Ingeniously constructed and extremely suspenseful, the novel keeps us guessing right up until its final moments. Lippman is a popular and dependable writer, and this homage to classic noir showcases a writer at the height of her powers."
— Booklist (starred review)

"I feel like it creates a whole new category, which I'm thinking of as 'femme noir' [...] She's taken this traditional noir structure of a man sweeping in to save a woman who then turns around and eats his heart out—she's turned that notion on its head."
— Wall Street Journal

"The ingenious plot evolves into myriad twists that are as believable as they are surprising [...] Sunburn delivers one of the year's most intriguing mysteries."
— Lisa Ko, author of The Leavers

"Another extraordinary novel from Laura Lippman—full of just-one-more chapter, stay-up-late suspense, but packed too with nuance, subtlety, observation and humanity. Lippman is a natural storyteller at the height of her powers."
— Lee Child, #1 New York Times bestselling author

"Sunburn was dark but not too dark, thrilling, richly descriptive with an utterly compelling protagonist...I read this book at a furious pace and never forgot about it all year. Sunburn was a reminder that storytelling matters and good storytelling is all too rare."
— Roxane Gay

"spellbinding [...] this corkscrew of a book, with its psychological insights and sensual charisma, proves once again that Ms. Lippman, as a writer, is sui generis."
— Tom Nolan, Wall Street Journal

"Great book. Well paced. Beautifully observed details. Interesting characters and nuance in the right places. [...] Thoroughly enjoyed this book and the protagonist who is flawed and brilliant and ruthless and unapologetic."
— Roxane Gay, New York Times bestselling author of Bad Feminist and Hunger

"A tantalising, ingeniuously constructed page-turner."
— The Guardian

"Grips like the classic Hollywood black-and-white movie thrillers of the 1930s and 1940s. Sunburn unsettles from its first page."
— The Times (London)

"Note-perfect noir...not to be missed."
— Megan Abbott, Edgar Award-winning author of Dare Me and The Fever

"A pacy, pithy modern take on the noir tradition...terrific entertainment."
— Sunday Mirror

"For once the blurb doesn't over-promise. Lippman writes the best opening pages of any thriller so far this year."
— Daily Mail (UK)